UNIVERSAL VOUCHER / gift voucher
Would you like to make your friends or acquaintances happy and pleased but you are not sure what kind of experience or what service will fit them best? It doesn´t matter! Give them an Universal voucher. You set the value of voucher and they can easily choose the type of experience. Write us your wishes – email info@experiencze.eu or call us +420 608 12 00 55 and we will prepare a voucher for you.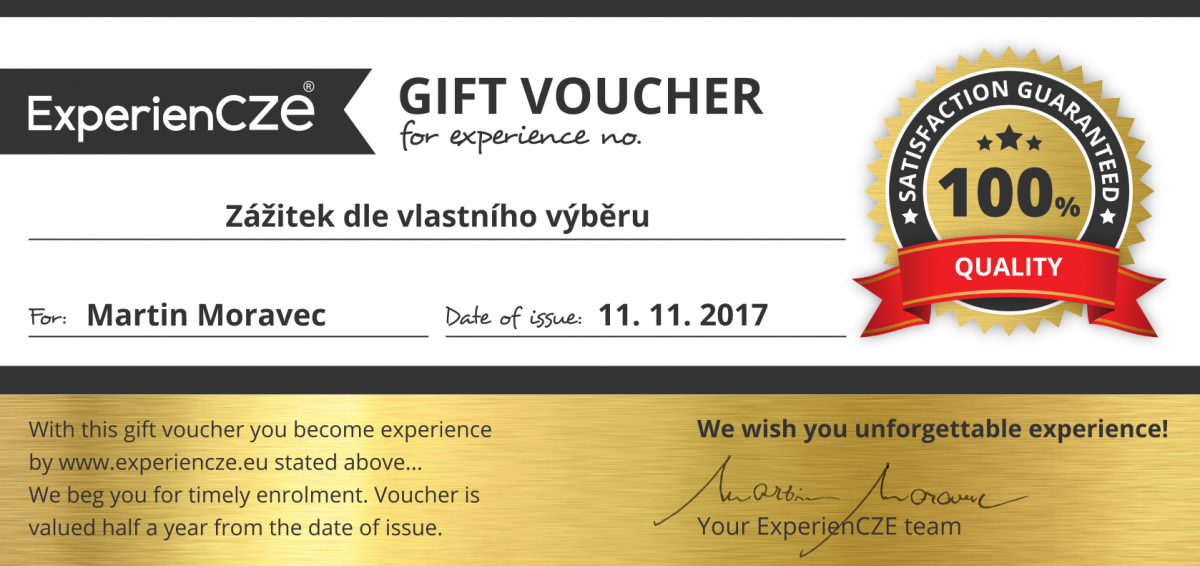 Experience as a wish
Would like you to give a gift as an experience or service missing in our order? Or just to try something new and extraordinary? Tell us your wishes, we will manage it and make your dreams come true!
E-mail: info@experiencze.eu
Telephone: +420 608 12 00 55
Booking of term of experience
If you have a valid experience voucher and you are interested in booking the term, contact us by phone for reservation +420 608 12 00 55.
Using of the universal voucher
If you have an Universal voucher of a particular value, you can choose any kind of experience or service for the same of lower price from a current offer in our web. Universal voucher is not redeemable for cash and can´t be used for experience of service, which has higher value of money. Universal voucher can be used for buying more experiences and services (if their value will not exceed the limit of voucher). If you have more universal vouchers and you would like to merge them to choose some more expensive experience, contact us by email info@experiencze.eu or by phone +420 608 12 00 55.